Our Farm
'Fresh from our Farm'
B & G Nurseries was established in the late 70's by Bob Byrd and Nick Gorin and provided the foundation for the growth of Ferryfast. The nurseries have expanded over the years from just 2 glasshouse sites to over 400 acres of land and 9 acres of glasshouses across several locations in the Vale of Evesham.

The Nursery grows an extensive range of products on its' open land, together with large orchards of plum and apple varieties. The glasshouses provide a range of salads and exotic vegetables with seasonal chillies being 50% of the crop. The outdoor vegetable production covers over 100 acres and specialises in year round brassica production, and also includes varieties of other core crops and various new trials.
Certified for Red Tractor Assurance and LEAF Marque, B & G's aim is to provide our customers with confidence about product quality attributes including food safety and environmental protection and ultimately give Ferryfast top quality local produce `fresh from our farm'.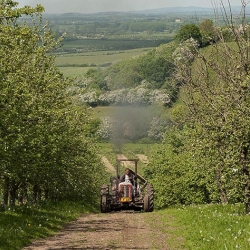 Ferryfast Produce have teamed up with a company called Wasteknot to make use of the class 2 produce that is surplus on our farms; We are proud to say that throughout 2019 in conjunction with Wasteknot , we have donated 145.76 tonnes of fruit and vegetables to FareShare projects which have provided an estimated 347,054 meals for people in need – in fact our produce has been distributed between 2434 frontline charities and community groups across the UK including the following:
481 community centres and community cafés in deprived areas.
472 school breakfast clubs, after school clubs and youth clubs.
200 hostels and residential rehabilitation services.
332 food banks and drop in services for families and people on low income.
211 lunch clubs and day centres for vulnerable adults and older people.
We are pleased to hear from FareShare that we were their 3rd largest produce supplier during 2019!