Fresh produce: Livesey Mushrooms - Shimeji
There are two varieties of Shimeji Mushrooms, Buna and Shiro. Buna Shimeji has dark brown, patterned caps and a white stalk. It is firm in bite and has a deep, nutty taste. Shiro Shimeji is cream like in colour, but the same shape as the Buna Shimeji. It has a slightly sweeter taste compared to its cousin but has the same bite.

The shimeji is easy to prepare and cook, there is very little waste. It cooks, when fried, in less than five minutes. However it can also be cooked slowly in stews.

The contrasting flavours of shimeji complement most dishes, especially soups. The sweetness of the Shiro combined with the nuttiness of the Buna makes them a great addition to Indian recipes, such as samosas and currys.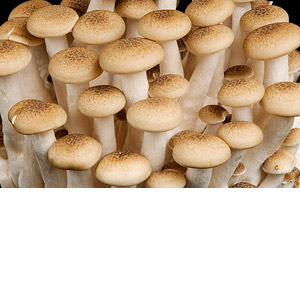 View Our Other Produce Ranges