Farm Fresh Produce
B & G Nurseries was established in the late 70's by Bob Byrd and Nick Gorin and provided the foundation for the growth of Ferryfast. The nurseries have expanded over the years from just 2 glasshouse sites to over 400 acres of land and 9 acres of glasshouses across several locations in the Vale of Evesham, providing us with a unique and extensive range of fresh produce.

The Nursery grows an extensive range of fresh produce on its' open land, together with large orchards of plum and apple varieties. The glasshouses provide a range of salads and exotic vegetables with seasonal chillies being 50% of the crop. The outdoor vegetable production covers over 100 acres and specialises in year round brassica production, and also includes varieties of other core crops and various new trials.
Certified for Red Tractor Assurance and LEAF Marque, B & G's aim is to provide our customers with confidence about product quality attributes including food safety and environmental protection and ultimately give Ferryfast top quality local fresh produce `fresh from our farm'.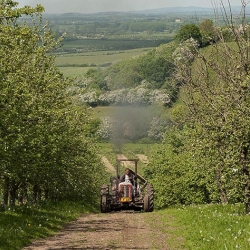 We are proud to announce that with the help of WasteKnot, within a year we have distributed 910 tonnes of surplus fresh produce to Fareshare. This has been enough fresh produce to create over 2.1 million meals for those in need. Pete Osbourne, said: "Everyone has a right to access fresh fruit and vegetables. Wasted produce should no longer be a factor in our communities especially with the aid of the FareShare Surplus with Purpose Fund." To read more about this achievement please click here.