This April brings us a lot of hope, we are very excited to see the hospitality industry reopening once again, and we have some amazing British Fresh Produce coming into stock. British seasonal fruit and vegetables are thin on the ground this month, Winter root vegetables are on their way out for a couple of months, and unfortunatly the majority of new crops are not ready for harvesting until May. Luckily there are still a few old favourites in season to keep us going, and some new additions including Baby Beetroot, Baby Turnips, Radish and a few more spring favourites!
This month with have some new produce ready for harvesting from our farms located in the Vale of Evesham. Our new season baby turnips and baby beetroot are ready to make their debut and are looking wonderfully delicate. Our new season Cavolo Nero (Black Cabbage) availability is set to increasing throughout April. Our Black Cabbages have very tender leaves which are pleasantly tangy, with a bitter flavour and sweetened after taste, perfect in a spring salad, or sauteed with garlic and olive oil.
This month, our Farms are also harvesting a variety of wonderful Radishes, including French Breakfast, Cherry Belle and Mixed. Cherry Belle are spherical with bright red roots and a pure white crisp flesh, these are very tasty with a milder flavour. Our French Breakfast radish are more oval in shape, they also have a bright read root but with a white tip. Like Cherry Belle, Breakfast Radish are crisp but tend to offer a mildly spicey flavour, grilling or roasting will bring out a subtle sweet and nutty flavour. Our Mixed radish offer vibrant roots of purple, red, white and gold, again these are crisp with a white flesh and they offer a refreshing, tangy flavour.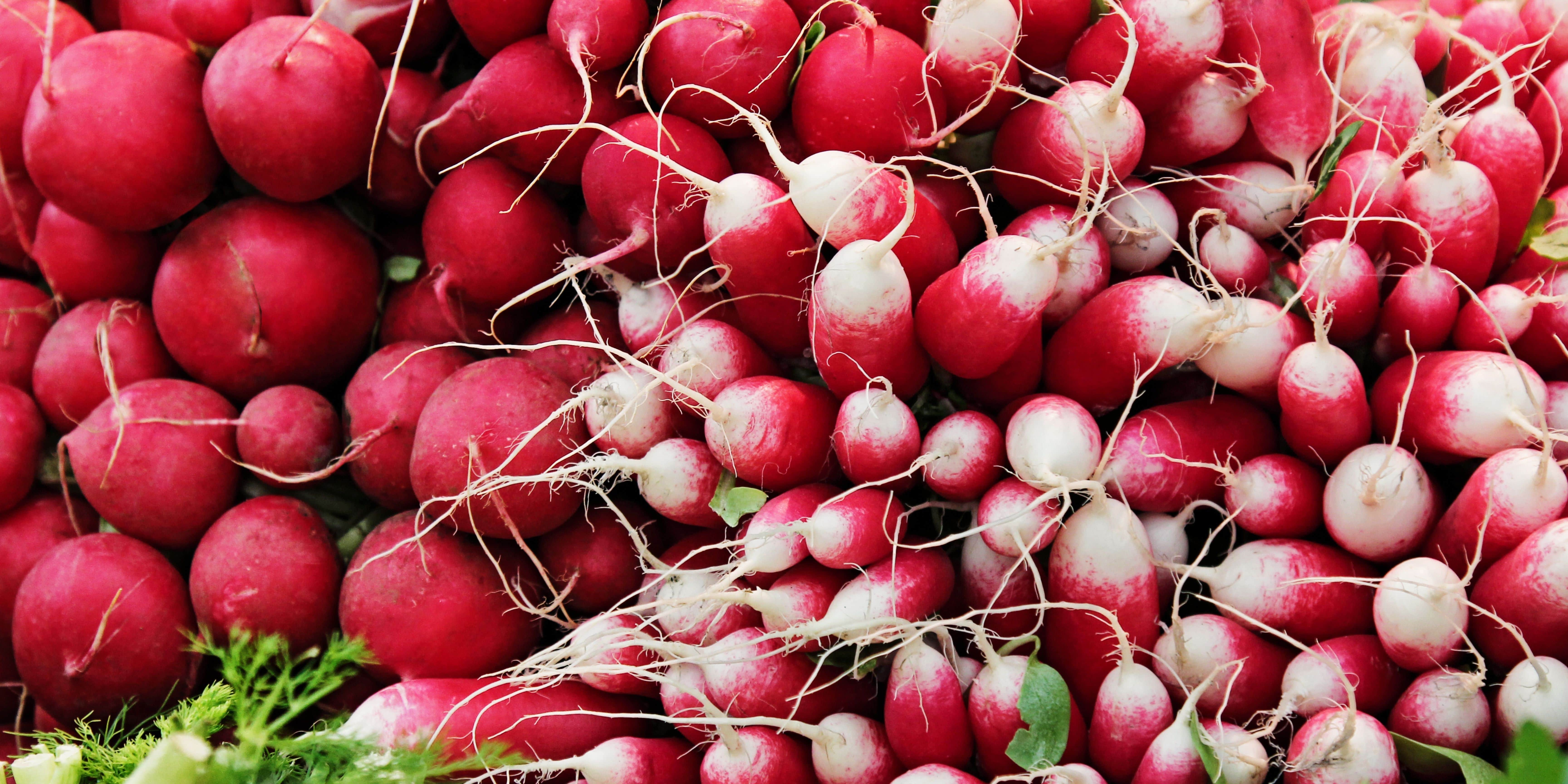 Last month we saw the start of the UK Asparagus slowly trickle in through our doors, this year's Wye Valley Asparagus is simply magnificent. Whether its purple, white or just traditional green asparagus you are after, you certainly will not be disappointed! Excitingly, we have also seen the first few punnets of UK strawberries from Wye Valley, unfortunately availability is very limited. April also offers another favourite, Jersey Royals. Grown in Jersey for over 140 years, harvesting began at the end of March and will continue through until June, with the peak of their season being May. Their delicate flavour just cannot be beaten, Jersey Royals are definitely one of the highlights of spring Fresh Produce!
Grand in stature and rosy in colour, availability of rhubarb from our farm is set to remain steady as we get into the full swing of the Rhubarb season. The stringy stalks are best stripped and then roughly chopped into a stew or even poached.
Purple Sprouting is a family favourite in many homes across the UK, there is nothing quite like its fresh spring flavours, until you taste white sprouting. Harvested from our fields, White sprouting broccoli is more delicate than purple and therefore requires less cooking, it is simply delicious and very nutritious, with a milder flavour than its purple sister. Unfortunately, white sprouting only has a short season and availability will dwindle throughout April.
We are coming to the end of season for many of our winter vegetables including Savoy Cabbages, Spring cabbages, Celeriac, Leeks, Stem Broccoli, Rainbow Chard and Kale. Availability will begin to dwindle throughout April, however thankfully this is only for a short while whilst we await the new season to begin in a couple of months.
Please get in touch with our sales office for more information on availability and to place your orders.